Diving with Disabilities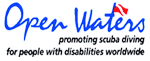 Open waters is a worldwide resource designed to expand the sport and industry of scuba diving to people with disabilities, and assists certifying agencies, scuba instructors, equipment manufacturers, retailers, dive tour operators and others in the scuba industry to respond to the recreational goals of people with disabilities.
The benefits of scuba diving to people with disabilities include building confidence and self-esteem, providing an opportunity to interact with others socially, developing physical fitness, expanding employment possibilities, and becoming aware of the importance of a healthy underwater environment.
Open Waters is affiliated with Alpha One, a not-for-profit organization directed by people with disabilities. Alpha One, a leader in disability information, services and products, is recognized nationally for it's work developing independent living oportunities.
The Open Waters program is administered by program coordinator Paul A. Rollins, a leader in the area of diving with disabilities.